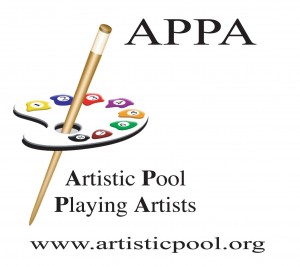 Attention: Treasured Players, Fans, and Friends of Artistic Pool!!
The modern day Artistic Pool movement has come a long way since its inception in 1991 and the "state of the art" remains strong to present day. The magnetic appeal of this "sport gift" has graced thousands of "sport and show" arenas, as well as a multitude of open "outreach ministry" venues around the world.
In this regard we have initiated this dedicated site for the 3-fold purpose of Artistic Pool (competition, entertainment, and mission work) that has embraced the hearts of so many with the beauty, promise, and vision of its special amenities. A section under the menu tab labeled Champion's Heart presents several articles that will not only "touch the heart", but will also give insight to what "being a champion" is all about. Additional updates follow!
           

Sport / Competitive Side of Artistic Pool
WPA Professional Events – https://www.facebook.com/ArtisticPoolWorldwide?ref=hl.   This Facebook page presents specific details / updates for events / players under the WPA Artistic Pool Division. This entity is the recognized / approved entity under the WPA (World Pool-Billiard Association) with a responsibility to promote, monitor, document, and help develop Artistic Pool within the 6 WPA federation structures around the world.
HISTORICAL NOTE: THE WPA WORLD ARTISTIC POOL CHAMPIONSHIP IN MIDWEST CITY, OK FROM OCTOBER 21 – 23, 2016 ENDED IN REMARKABLE FASHION WITH CHAMPION WILLIAM "THE GENTLEMAN" DEYONKER SETTING A NEW WORLD RECORD FOR MOST POINTS EVER SCORED (296) IN A 40-SHOT PROFESSIONAL PROGRAM.
ANYONE WANTING INFORMATION ON ARTISTIC POOL WORLDWIDE IN GENERAL, PLEASE CONTACT BRIAN PAULEY, PRESIDENT OF THE WPA ARTISTIC POOL DIVISION VIA THE FOLLOWING EMAIL ADDRESS:
Historical / Legacy Event Registration / Reporting – Since 1993 there have been 403 "fixed program" events of an "artistic" nature producing 948 Artistic Pool Playing Artist Champions collectively from a wide assortment of junior, amateur, and professional competitions. There are also 2 special categories of competition: 1) Select "Trick Shots & So Much More" Events (1979 to 1998) and 2) Special "Online" Artistic Pool Events (Started in 2020). To view ALL documented events in an "easy to read" format presentation, please click on the following link:
http://www.drcuepromotions.com/past-present-future/
SPECIAL UPDATE: THE 2019 WPA WORLD ARTISTIC POOL CHAMPIONSHIP IS NOW DOCUMENTED AND HAS RECORDED 9 MORE CHAMPIONS TO THE GROWING NUMBER OF ARTISTIC POOL PLAYING ARTISTS LISTED IN THIS SPORT REGISTRY!
Below is a link showing a recap article and the documented results for this event:
Below is a link showing the official Artistic Pool world rankings and special honor / support list:
Show / Entertainment Side of Artistic Pool
Since 1991 when my wife Marty ("Ms. Cue") and I founded the modern Artistic Pool movement, the sport has grown exponentially via various event mediums, individual show presentations, political recognition / endorsement under the WPA / federation entity structures, and private promoter / social connections.  The "building of a sport city" based on the entertainment value attached to it is evident at every turn.  In this regard, we owe a special thanks to William "Gentleman" DeYonker, one of the top professional Artistic Pool players, for creating / placing a great video on You Tube (link immediately below) showing the special skills and joy of Artistic Pool! The skills presented are magnetic, fun to watch, and an Artistic Pool treasure; It presents a beautiful picture / theme of what Artistic Pool is all about — sharing, caring, blessing, enjoying, and most importantly — "loving" the beauty, promise, and vision of our special art form / "sport gift" worldwide!
Video Title: This Is Artistic Pool!
A second link below presents a special mix of the history of Artistic Pool presented by its founding farther, Tom "Dr. Cue" Rossman, plus many incredible shots executed by some of the world's most famous and seasoned players…with accompanying content on how they started and much more! This video was created and posted on YouTube by Stacey Tonkin in association with The Billiard Channel and InsidePoolMag.com.
Video Title: America's Got Artistic Pool!
Outreach Ministry / Mission Side of Artistic Pool
This unique function / amenity of Artistic Pool is a primary expression in the billiard industry and beyond  of how a special art form can be used to reach the lost and hurting, regardless of the reason or season! Gospel Trick Shot Ministries spearheads focused outreach efforts in this regard, coupled with the RACK Vision (Recreational Ambassadors To Christ's Kingdom), so that ANYONE and EVERYONE can "Rack Up A Victory" in his or her "Game and Life"!!
SPECIAL OUTREACH (2016) — PLEASE CLICK ON THE FOLLOWING LINK TO READ A GREAT ARTICLE ON A RECENT TRIP TO UPPER STATE NEW YORK AND QUEBEC, CANADA.  GOD USED "TRICK SHOTS AND SO MUCH MORE" TO SHARE THE GOSPEL MESSAGE, GIVE GLORY TO GOD, AND REVEAL A MULTIPLE OF MIRACLES DURING THE TWO-WEEK MISSION.
http://artisticpool.org/wp-content/uploads/2016/08/And-The-Ball-Stops-Here.pdf
For more information please visit the site links below:
Gospel Trick Shot Ministries –
http://www.gospeltrickshot.org (PLEASE USE UPDATED BROWSER TO VISIT THIS SITE)
Rack Vision / Outreach / Special Articles –
http://www.drcuepromotions.com/outreach-vision-witness/
 And
http://www.drcuepromotions.com/artistic-pocket-newsletter/
For information about Dr. Cue Promotions please visit our company site at:
http://www.drcuepromotions.com                     
Wanted to share a new video from Mike Massey! Great message from a great friend of Artistic Pool!