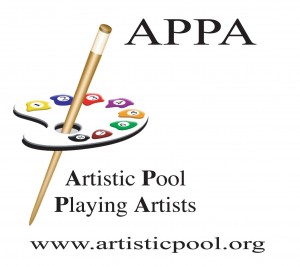 Attention: Treasured Players, Fans, and Friends of Artistic Pool!!
The modern day Artistic Pool movement has come a long way since its inception in 1991 and the "state of the art" remains strong to present day. The magnetic appeal of this "sport gift" has graced thousands of "sport and show" arenas, as well as a multitude of open "outreach ministry" venues around the world.
In this regard we have initiated this dedicated site for the 3-fold purpose of Artistic Pool (competition, entertainment, and mission work) that has embraced the hearts of so many with the beauty, promise, and vision of its special amenities. A section under the menu tab labeled Champion's Heart presents several articles that will not only "touch the heart", but will also give insight to what "being a champion" is all about. Additional updates follow!
                          Sport / Competitive Side of Artistic Pool
WPA Professional Events – www.wpa-apd.com. This site presents official WPA World Artistic Pool Rankings, specific details / updates for events / players, and accepted sport guidelines for "fixed program" and "freestyle" formats – all under the WPA Artistic Pool Division. This entity is the recognized / approved entity under the WPA (World Pool-Billiard Association) with a responsibility to promote, monitor, document, and help develop Artistic Pool within the 6 WPA federation structures around the world.
EVENT NOTE: THE MASTERS ARTISTIC POOL CHAMPIONSHIP WILL TAKE PLACE IN MIDWEST CITY, OK FROM DECEMBER 4 – 6, 2015. ANYONE INTERESTED IN PLAYING IN THIS WPA WORLD RANKED EVENT SHOULD SEND HIS OR HER "INTENT TO ENTER" TO MARK DIMICK, PRESIDENT OF THE WPA APD – DIMICKMARK@AOL.COM.  For more information please visit www.wpa-apd.com
Historical / Legacy Event Registration / Reporting – Since 1993 there have been 300 "fixed program" events of an "artistic" nature producing 693 Artistic Pool Playing Artist Champions collectively from a wide assortment of junior, amateur, and professional competitions. To view ALL documented events in an "easy to read" format presentation, please click on the following link:
http://www.drcuepromotions.com/past-present-future/
Special Note: The 2015 Masters Artistic Pool Championship will document and record 9 more champions to the growing number of Artistic Pool Playing Artists listed in this sport registry!!
                         Show / Entertainment Side of Artistic Pool
A special thanks to William "Gentleman" DeYonker, one of the top professional Artistic Pool players, for creating / placing a great video on You Tube (link below) showing the special skills and joy of Artistic Pool!
The skills presented are magnetic, fun to watch, and an Artistic Pool treasure; It presents a beautiful picture / theme of what Artistic Pool is all about — sharing, caring, blessing, enjoying, and most importantly — "loving" the beauty, promise, and vision of our special art form worldwide!
https://www.youtube.com/watch?v=HOCqw0h2UBw#t=17
                     Outreach Ministry / Mission Side of Artistic Pool
This unique function / amenity of Artistic Pool is a primary expression in the billiard industry and beyond   of how a special art form can be used to reach the lost and hurting, regardless of the reason or season! Gospel Trick Shot Ministries spearheads focused outreach efforts in this regard, coupled with the RACK Vision (Recreational Ambassadors To Christ's Kingdom), so that ANYONE and EVERYONE can "Rack Up A Victory" in his or her "Game and Life"!! For more information please visit the site links below:
Gospel Trick Shot Ministries –
http://www.gospeltrickshot.org
Rack Vision / Outreach / Special Articles –
http://www.drcuepromotions.com/outreach-vision-witness/
and
http://www.drcuepromotions.com/artistic-pocket-newsletter/
For information about Dr. Cue Promotions please visit our company site at: